News / Nunn Road / 2020 / December 2020
Dear Parents,
In the beginning of November, the English Class was filled with excitement about the Graduation Ceremony. The graduating children were getting ready for their performance and looking forward to the big day.
They all shone like stars on that day while the younger children enjoyed singing some songs with them. The younger children also recited congratulatory notes to the 7 "jie jie". The parents and teachers were moved as they watched the graduating children standing upright with confidence which signalled that they are ready for their next learning stage.
At the same time, I was worried as the Covid-19 cases had been increasing in Penang. Not long after the ceremony, RMCO was announced for most of the states including Penang. I would like to take this opportunity to say thank you for your co-operation, understanding and support as we went through this period together.
I am so thankful that children could come back to Nania again before the Christmas Festival. Although we have not much time to practise for the songs and poems, the young children picked up the songs and poems with the help from the big children. The children made their Christmas wish: "I wish all the sick people will get well soon and the Corona virus will go away. I hope my wish will come true." We prayed for the world with our gentle thoughts and hearts. I will send you a link via email to share with you the Christmas Puppet show. I hope you will enjoy it as your child enjoyed it on that day.
We bade farewell to Charlie, who went back to Australia and Eu June.We will also bid farewell the 7 graduated girls. I wish them and their family all the best for their future undertakings.
On the 21th December, Chinese families celebrated the Winter Solstice (Thong Zhi). On that day, we had the shortest day light and longest night in a year. From then on, the sun will rise earlier each day and we shall have more day light. It is my wish for everyone that we can have courage and wisdom to embrace the darkest time and believe that light never leave us. It's time for us to reflect within ourselves and seek for the light within us. This light that will show us the way and keep us warm whilst walking through the darkest times.
You will receive next year calendar together with this newsletter. As we don't have any changes in fees, menu, and curriculum for next year, there will be no new Information Pack distributed.
Lastly, I would like to wish you a Merry Christmas and a Happy New Year. Stay safe and stay healthy during this school holidays, see you again next year.
Teacher Thian
Graduation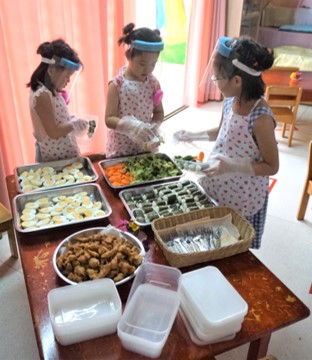 Christmas Festival