News / Nunn Road / 2018 / February 2018
Thank you for attending our Chinese New Year Festival. It was great that all the children in both English Class and Japanese Class turned up during that day. I feel like we are one big family and our love for the children bind us together. I hope all of you enjoyed the festival too.
February was an eventful month for us at Nania. We started the month with Bean Throwing Day. Children wore their mask and went out to the garden with a box of soybeans. Together with the Japanese Class children, we scattered the soybeans as a sign to get rid of sickness and sadness while welcoming goodness and happiness in the coming year. After that, children collected those scattered soybeans and we planted them in the vegetable patch. The beans that they planted have sprouted. Children water them during outside playtime. Come and observe those plants and share our happiness when you are at our garden.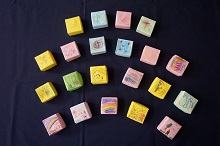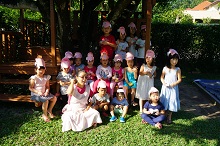 On the following week, 9 students from Penang Japanese School visited us. They made kites from recycle plastic bags to play with the children during our outside playtime. We had picnic with the big "Koko" and "Jiejie" in the garden. Children were happy to play with those energetic teenagers.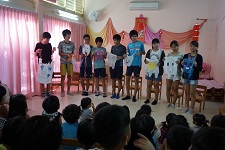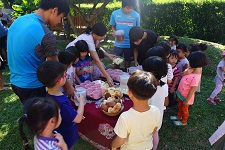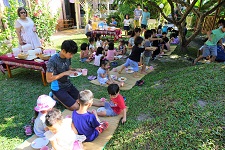 Meanwhile, we were also busy preparing for Chinese New Year festival. The big children, 6 years old, helped us to clean the stools. Children practiced to fold the Ribbon Kuih using origami papers. On the Ribbon Kuih Making day, big children helped to cut the folding line on the Ribbon Kuih. Then all of us folded the Ribbon Kuih in the morning. Later, Auntie Janet helped us to fried those Ribbon Kuih. I hope you like the Ribbon Kuih that was served on the festival's snack time.
This Chinese New Year Festival was the first festival for new comers. Some of them are still shy to perform in front of the parents. It was nice to see parents gave support and encouraged the children. Meanwhile older children show more confidence and willing to participate.
After the children came back from the Chinese New Year holidays, they continue to be in the festive mood and constantly replayed the wonderful experience of our Chinese New Year Festival. They played the drum and sang songs of our Chinese New Year festival. I also realised that our children paid attention to the puppet show. Now, some children started to play puppet show during their creative time. Sometimes, I was invited to be their audience.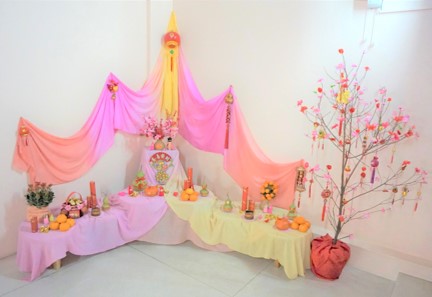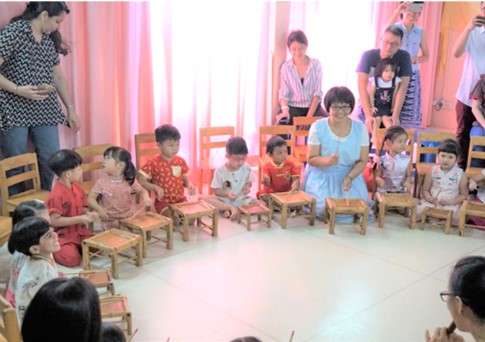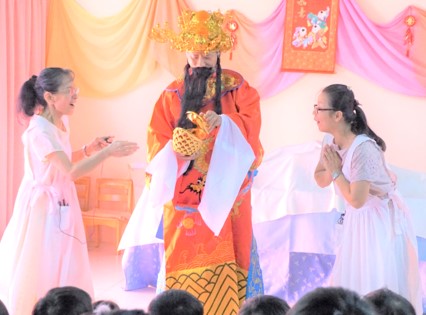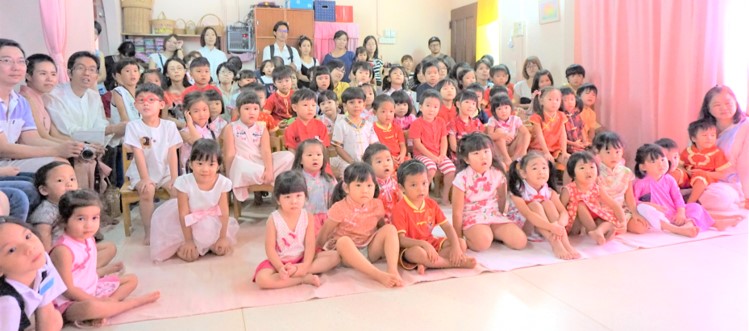 I would like to share how I 'freed' my child from the current electronic infused environment during our visits to relatives during Chinese New Year. I can't stop my 9-year-old boy from the desire to see what his cousins were playing on their handphones or watching on television. Instead, I created activities that he could interact with them like writing Chinese calligraphy on red paper, folding origami doggie, playing carrom and building wood blocks with his cousins. Their faces beaming with laughter when they played together.
In addition, we also spent two days camping. We camped beside a stream in Sik, Kedah. We found many beautiful stones and pieces of quarts in the stream. I told my son I will present these "treasures" as birthday gifts for Nania children. He asked me whether I will tell them that the treasures came from Mr. Gnome? I smiled and answered him," Yes! I just asked permission from Mr. Gnome to take these stones." It's important for young children to have the reverence, respect and appreciation towards our mother earth and nature. Sometimes when children find stones from our sandpit, they appreciate them the way adults value the diamonds or precious stones.
There will be 13 children graduating from the Japanese Class in March. I wish them all the best for their future endeavours. Please take note that the English Class will be closed on that day.
Teacher Thian