News / Halaman York / 2017 / October 2017
Thank you very much for attending our Mooncake festival. Your participation made our evening more wonderful. All the children were filled with anticipation for this festival. A few days before the festival, Mr. Rain arrived. The children were worried and they started to pray hard to have good weather on the day. During the day, the weather was gloomy and rain threatened to fall. But all of them still enjoyed making "origami" lanterns to decorate our garden. They were satisfied when they saw the garden becoming beautifully decorated. After lunch, all the children helped to put on little plastic bag-socks on the legs of the chairs to protect them from mud just in case it rained. We are happy to see all of them helping out so eagerly.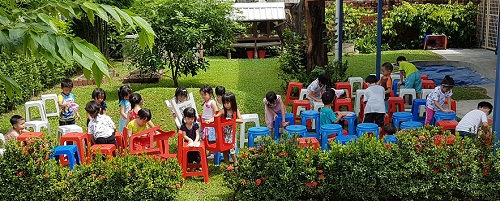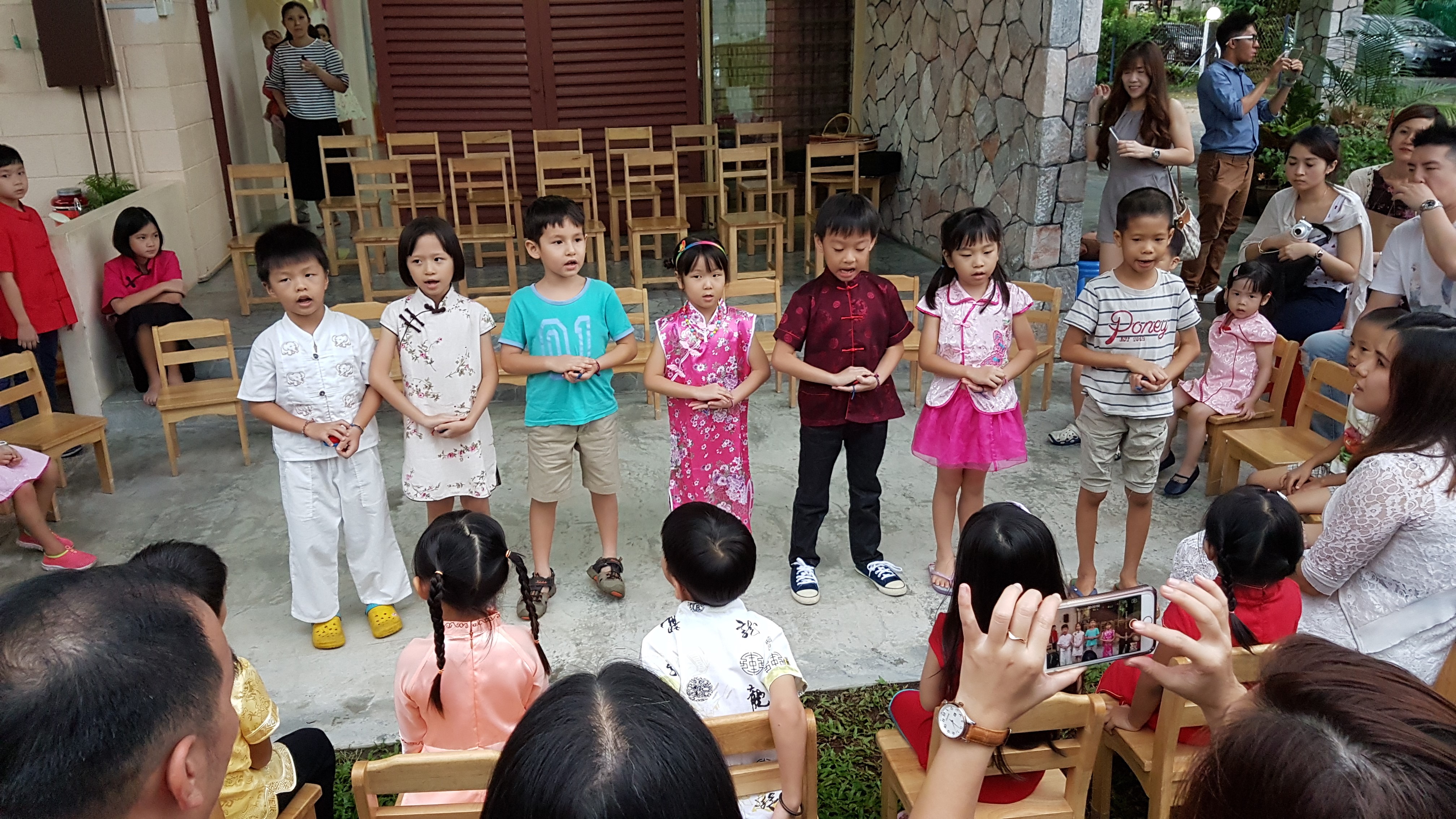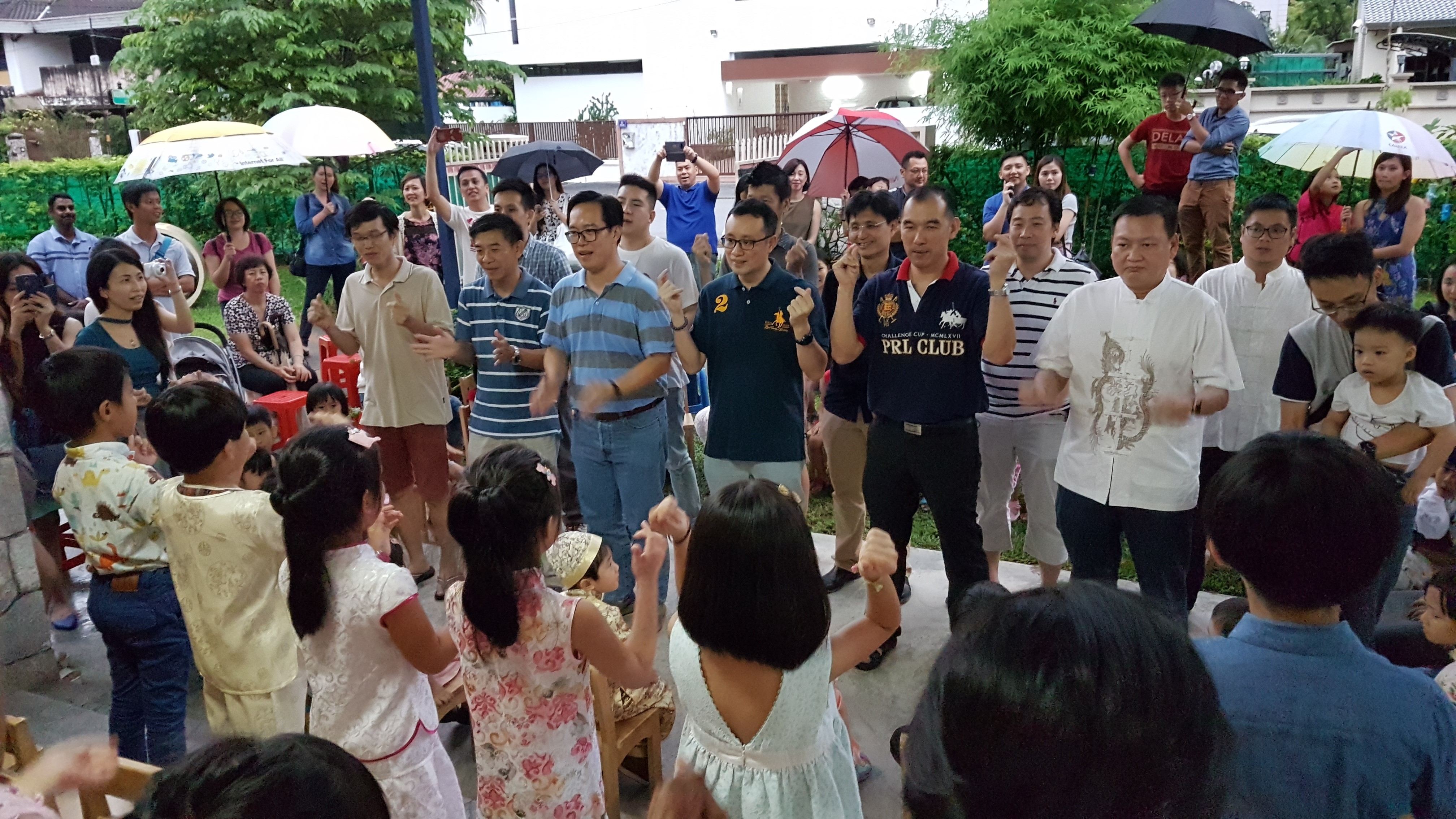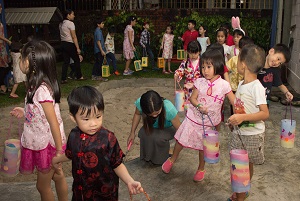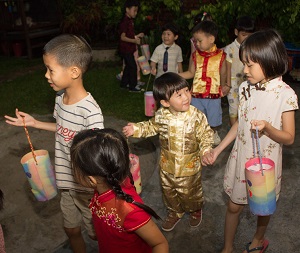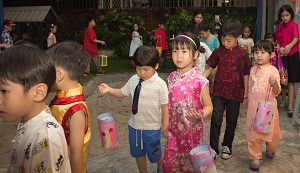 Later, it started to rain and the lanterns were wet but it did not affect the children's mood. Instead they prayed more enthusiastically that the evening celebration would be fine.
Due to the unpredictable weather, we were wondering what to do. But we believed Mr. Rain will receive our prayers so we insisted on waiting till the last minute before deciding where to set up our presentation circle. Our final choice was still at our beautiful garden. And nature rewarded our efforts. The rain stopped long enough for us to conclude the wonderful presentation from both our classes. It started to drizzle again when we had our lantern walk. But with all your help we manage to do it well.
The children came back in the evening with happy faces. Looking at all their excited faces; we realised a little 'discomfort' was worth it all. We were so happy and proud of all the children who did well in the presentation even though they had to face such a big crowd of people. We have 7 big children this year we were proud to see all of them reciting and presenting poems and songs confidently. They set such a good example for the smaller children to imitate.
The wonderful evening ended with their wonderful singing. Then, the children carried their beautiful handmade lanterns and homemade snow-skin mooncakes home happily. All's well that ends well and we would like to thank all the parents for helping us through another wonderful celebration.
Recently, we celebrated Deepavali by transforming the display corner with colourful Deepavali decorations. We had pink embroidered saris and coloured wax lamps. The children made Deepavali lights with origami paper. On the actual day of the Deepavali celebration, the teachers and some of the children wore traditional Indian attire to create the mood of the celebration. Teacher Chithra told a Deepavali story and together we sang the Deepavali song. For morning snack time, we had Indian cookies & "Muruku" made by our cook, Aunty Anny. Children enjoyed the celebration very much.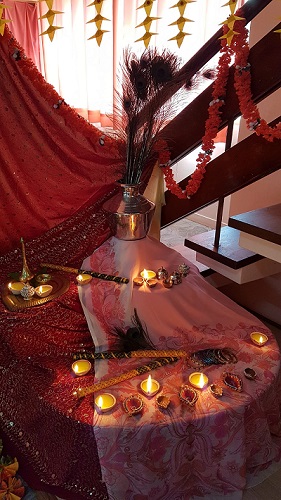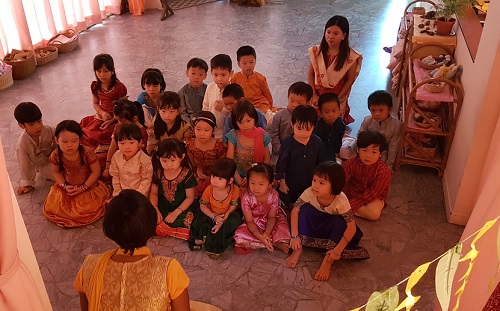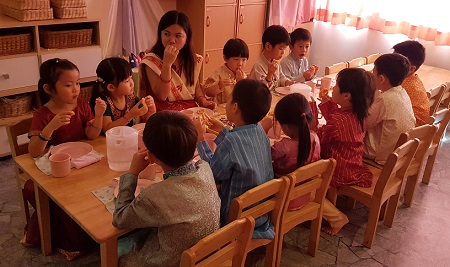 October is a busy month for our 7 big children. We have a big graduating group this year. They are busy preparing for their graduation. They are working on their graduation year project that is weaving a bag and making their own musical instruments. They are practicing to perform a "concert" for their graduation. It is so touching to see how passionate they are working on their project and getting ready to continue their journey in life. We wish them all the best.
To the parents of these graduating children, please mark your calendar and join us on that important day. You are requested to prepare and share with us a simple and touching story about your child on that day.
We are now planning next year's enrollment. Please inform us before the 15th November if your child would like to stay or leave Nania next year.
Teacher Kerry & Teacher Chithra